Last weekend we had a BBQ to welcome our new neighbors and I made bacon wrapped banana bites and bbq bacon rolls. I found the recipes on youtube that use the magical Green Egg, a coveted Legendary level bbq/smoker. It is Legendary in quality and it's price reflects that but luckily for us average adventurers you can still make those dishes in an oven, an old weber, or propane grill.
Bacon Banana Bites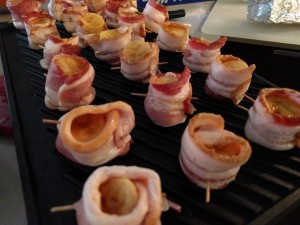 Bananas
Bacon
Maple Syrup
Bacon Rub or various seasonings
Cut the bananas into bite size pieces and soak them in maple syrup and sprinkle on some bbq rub for good measure. I did not have BBQ rub so I used brown sugar, cayenne, black pepper, a pinch of sea salt and it turned out pretty good. Let that sit for 30minutes to an hour. Soak some toothpicks in water, it helps keep them from burning. This is an important trick to remember for our many bacon-related adventures in the future.
Now take your bacon and cut them in half. Nature designed bacon so that half a strip will perfectly wrap around a banana.
Wrap your banana bites in bacon and put a toothpick through it to old it all together. Place them on a baking tray. I used a griddle for the BBQ. Whatever you have that can go on a BBQ or in the oven will work. Save the maple syrup they bananas sat in earlier and use that to baste those suckers about 15 minutes. Bake them at 375 for about 20-30 minutes total depending on your oven.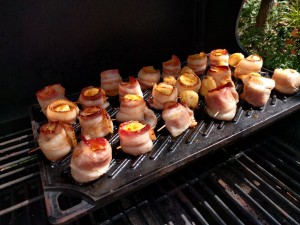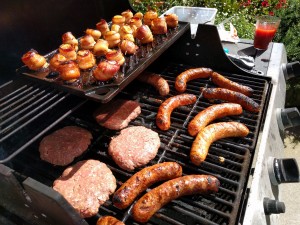 Maybe rotate them when you do the basting at 15 minutes for those pesky uneven ovens. I used a bbq over indirect heat and it took about 30 minutes as well. I reapplied the maple syrup about every 10 minutes while flipping burgers and they came out great.
Sources: https://www.youtube.com/watch?v=I4_r3cG5Bzo